Special Offers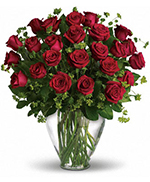 $

189.95
When it comes to romance, the red rose rules! And when it comes to delivering romance in a big way, two dozen gorgeous red roses are a brilliant choice. Twenty-four stunning red roses are arranged with greenery and delivered in a feminine vase. [...]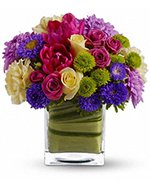 $

74.95
Oh, what a fine day it will be when you have this delightful spring bouquet delivered to someone special. Everyone will delight in the vibrant colors and bountiful blossoms, all thoughtfully arranged in a beautiful leaf-lined vase. Light yellow roses, hot pink spray roses, tulips and gerberas, yello [...]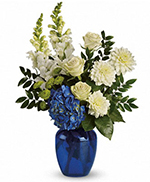 $

79.95
Sending this brilliant blue and white bouquet will surely garner oceans of appreciation from whoever receives it. Dazzling blue hydrangea, green roses and button spray chrysanthemums, divine white dahlias and snapdragons plus huckleberry arrive in a striking cobalt vase. [...]
Sometimes, you're so overwhelmed with emotions that you can't come up with the right words. Your emotions leave you tongue-tied, and that's when flowers can come to your rescue. Flowers are associated with meanings. They've been widely used to convey feelings since the Victorian era.
If you haven't been on the best terms with someone at work or with a friend that you wish to make peace with now for the sake of your mental and emotional wellbeing, we understand how difficult it must be for you to break the ice. But, did you know some flowers symbolize peace? By sending over a bouquet of peace flowers, you can restore your good terms without saying much.
Let's have a look at some of the flowers that make the best peace bouquet in Reno.
Recent Products
Lavender
Lavender is one of the most pleasant-smelling flowers. The beautiful pink, purple, and white flowers can enhance the beauty of any place they're present in and can bring about feelings of calmness and tranquility. It's a sheer representation of happiness, love, protection, and devotion and gives a strong message of peace and harmony. If there's someone with whom you wish to mend your relation, a bouquet of Lavender can do the job well!
Peace Lilies
Peace Lilies, as you can tell by the name, are a symbol of peace. They've got a strong resemblance to the pure white peace flag. They're also associated with a religious belief of them being linked to eternity and represent harmony and thriving. When you give someone Peace Lilies, you're conveying your message of peace. Peace Lilies are all about positive vibes!
White Poppies
White Poppies are known for their stunning, fairly large blossoms. They're absolutely beautiful and can make an excellent addition to any flower bouquet. White blossoms of White Poppies represent peace. It's believed that these flowers bloomed over the dead bodies of soldiers who died during the Great War that took place in France, and ever since, they've been seen as a symbol of peace. If you've not been on talking terms with a friend and you wish to make peace with them, sending them a peace bouquet of White Poppies is the sweetest thing to do!
Apple Blossoms
Apple Blossoms are delicate flowers that bloom during the early spring. The stunning white and pink flowers are seen as a strong symbol of peace, fertility, and even love in some cultures. Many people use Apple Blossoms as a decoration for romantic and intimate events. However, it's more widely known as a peace flower. If you want to end a fight with someone who's dear to you, send them a peace bouquet of Apple Blossoms and let these beautiful flowers mend the relation for you.
When we say flowers are the strongest mode of communication, we're not kidding. Can you expect to mend relationships with anything else other than flowers?